Unity Animal Hospital is committed to providing care to all animals. Unfortunately, many owners and rescue organizations struggle to afford necessary care for their animals. We welcome donations of any size to our funds:
Pet Retention Fund: Finances treatment for animals experiencing an unexpected but treatable illness, whose owners would otherwise surrender their pet to a shelter due to their temporary inability to afford necessary veterinary care.
Rescue Fund: Subsidizes care provided to rescue and shelter animals.
The Paws-N-Tails mural in our reception area contains paw prints from many of our patients arranged in a unique array of animal tails. All profits raised are donated to our Rescue and Pet Retention Fund.  Buying a spot on our mural is a great way not only to make your pet a permanent part of Unity Animal Hospital but also to help animals in need. The mural is an ongoing project, so please contact us if you'd like to add your pet's paw print.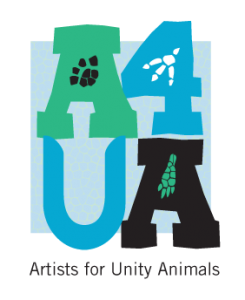 Our Artists for Unity Animals (A4UA) program supports local artists as well as animals in need. Participating artists agree to donate a portion of their proceeds from sales generated through Unity to our Rescue and Pet Retention Funds.  We encourage you to patronize our A4UA artists.  You'll benefit from a unique work of art while supporting animals in need.
If you are interested in donating to our funds, you can click the button to the right to donate via PayPal.  Alternatively, checks (made out to Unity Animal Hospital) or cash can be mailed to:
Unity Animal Hospital 1 N. Providence Rd. Wallingford, PA 19086