Hi, I'm Abby.
Dr. Abby Schutzman is a graduate of the University of Pennsylvania School of Veterinary Medicine. While there, she spent a significant amount of time as a volunteer surgeon for area shelters. After graduating, she practiced at Ardmore Animal Hospital (Best of the Main Line Award) and the Bucks County SPCA. Abby's professional interests include soft tissue surgery, pediatric medicine, and shelter medicine.
Abby lives with her husband, son, Tippy the cat, and Pickles the dog.
Testimonials
Dr. Schutzman puts both pets and people at ease. For the humans, it's through a blend of thorough listening, clear explanations, and well-informed recommendations. Our cats like how she talks to them and favor her special attention. Her playful manner serves all of us well.
Abby helped us out with our beloved aging dog when other vets wouldn't. When we get our next dog, I will definitely call her for our vet needs.
Our yellow lab Jesse was approaching his 14th birthday when his arthritis prevented him from standing on his own. Abby from Unity came out on a weekend morning to check on Jesse. Thinking this would probably be our final goodbye, Jesse spied Abby coming up the driveway and miraculously jumped up to greet her, wagging his tail. My wife and I were incredulous. Because of that moment, I began calling Abby the dog whisperer. The Unity team prescribed Jesse a new pain medication and he had 4 glorious weeks with the family while we really spent time appreciating him – and vice versa. He was able to go places and join us in ways that he had been unable to for years. After a month, another problem struck Jesse and Abby returned. Even though Jesse was in distress, her presence and patience put our whole family at ease. After hearing Abby's assessment, our family made the decision that the time had come and we surrounded Jesse, stroking him while Abby helped ease his pain. He laid down his head for a final sigh and fell into an eternal rest. The beautiful paw print and carved box of ashes will stay with us for all of our years ahead. I could not imagine a more compassionate and caring Veterinary service than the one provided by Unity.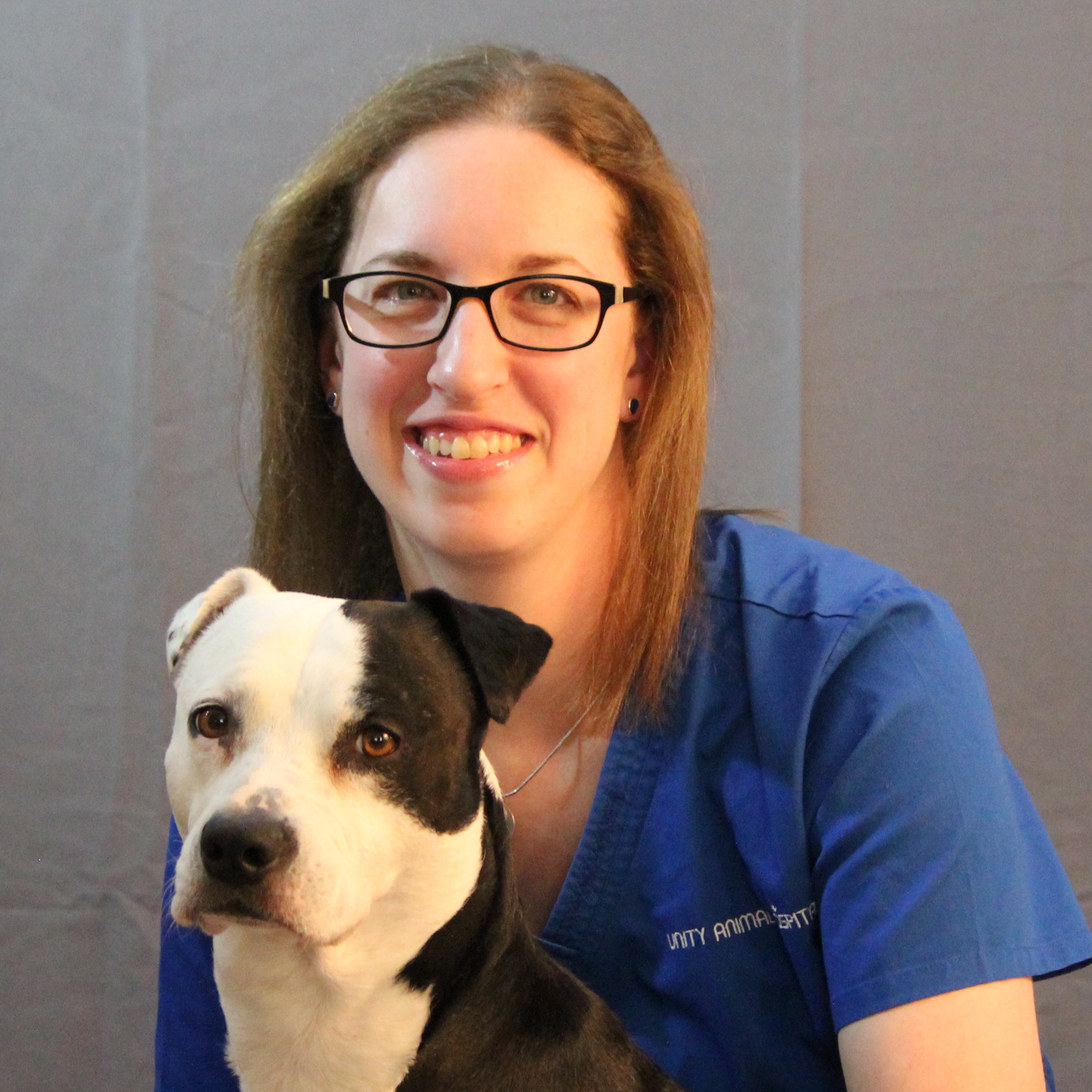 Abby Schutzman, VMD
While I enjoy caring for all animals, I especially like working with rescue and shelter animals. I appreciate the opportunity to advocate and care for animals who don't have a family to provide and make decisions for them.
Stats
V.M.D., University of Pennsylvania School of Veterinary Medicine, 2010
B.S., Haverford College, 2006
2013-2015:
Veterinarian for Bucks County SPCA
2010-2012:
Associate Veterinarian at Ardmore Animal Hospital
2006-2010:
Volunteered at Philadelphia animal shelters, performing surgery.
Tippy (cat), Pickles (pit bull mix)