Hi, I'm Eve.
Eve Wollman is a receptionist at Unity.
Eve is a life-long animal lover and an M.D. Eve is excited to tap into her background in human medicine to assist clients in caring for their beloved pets.
Eve lives with her husband, their three children, cats Lucy and India, and their dog Rosie, the Royal Bahamian Potcake.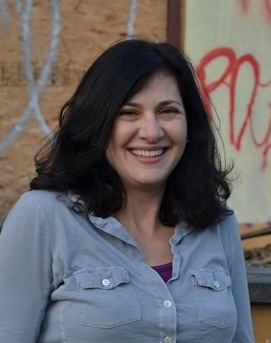 Eve Wollman
Both of my rescued mixed-breed pups have behavioral issues which make trips to the vet stressful.  Please let me know if there is anything I can do to make your visit to Unity a pleasant one!
Stats
M.D. from University of Rochester School of Medicine and Dentistry, 1995
B.A. in English from Vassar College, 1987
1995-1996:
Medical Resident in Neurology and research fellowship in Stroke at Strong Memorial Hospital, Rochester, NY
1990-1991:
Receptionist at several medical practices, including the Hospital of University of Pennsylvania's Department of Gynecological Oncology
1987-1989:
Editorial Assistant/Fact Checker at Vanity Fair magazine
Cats: Lucy and India, Dog: Rosie the Royal Bahamian Potcake