Hi, I'm Myra.
Myra Cruz-Spraw is a veterinary nurse at Unity.
Myra has worked in veterinary medicine for more than 20 years gaining a wide range of experience, but mainly focused in emergency and critical care.  Myra worked with Dr. Trow nearly 20 years ago at The Cat Hospital of Philadelphia, and Unity is thrilled to reunite this dynamic duo.
Myra has been married for 6 years and has two adorable children named Ava and Flynn. She also lives with 2 dogs (George and Brownish), 5 cats (Jethro, Dayva, Olive, Itchy and Scratchy), and 3 turtles (Abigail, Stumpy and Honey Cornbread).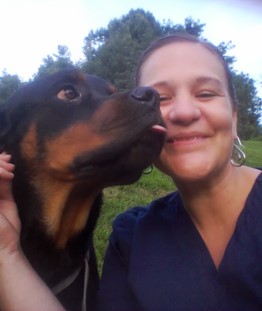 Myra Cruz-Spraw
Life is what you make it.
Stats
Veterinary Technician National Exam, passed, 2006
Diploma, Saul high school of Agricultural Sciences, concentration in small animal science, 1993
2011-2014:
Veterinary Referral Center, Malvern, PA
2007-2010:
PSPCA, Philadelphia, PA
1999-2002:
Animal Specialty Group, Los Angeles, CA
Dogs George and Brownish
Cats Jethro, Dayva, Olive, Itchy and Scratchy
Turtles Abigail, Stumpy and Honey Cornbread