Hi, I'm Rachel.
Rachel Balabuszko is a veterinary nurse at Unity.
Like many people in the field of veterinary medicine, Rachel has enjoyed taking care of animals her entire life. In High School, she worked as a veterinary assistant in a private veterinary practice for two years.  She returned to school and graduated from Parkland College in Illinois with an Associate Degree in Veterinary Technology. After graduation, she worked at one of the only animal poison control centers in the U.S.   For the last several years, Rachel has worked at the Bucks County SPCA where she enjoys caring for all sorts of companion animals.
Rachel has a graduate degree in Anthropology. Her anthropological interest is in creating a biological profile (such as a person's age and gender) by examining skeletal material.  She has also worked as an archaeologist in California.  Rachel's interested in Anthropology continues and she is currently teaching online with a local community college.
Rachel lives with her husband, son, 3 cats, 2 dogs, and 1 water frog.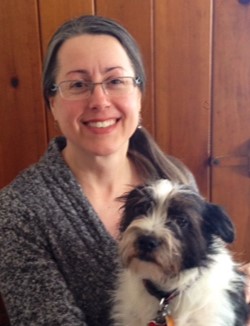 Rachel Balabuszko
I'm excited about Unity's novel animal care model, and I'm looking forward to assisting our veterinarians with client education and animal care.
Stats
Ph.D. candidate, Physical Anthropology, The Ohio State University. Area of focus is skeletal biology.
M.A., Physical Anthropology, San Francisco State University. 2005
B.A., Anthropology, University of Illinois, Urbana-Champaign, 2001
A.S., Veterinary Technology, Parkland College, 1998
2011-2014:
Veterinary Technician, Bucks County SPCA
2012-present:
Instructor, Burlington County College, Online, Introduction to Cultural Anthropology
2005-2011:
Instructor in Cultural Anthropology, Forensics, and Physical Anthropology at colleges in NJ, OH, and CA
1998-2000:
Veterinary Technician, ASPCA/NAPCC
1995-1996:
Veterinary Assistant, Superstition Animal Hospital
Emmy is our Australian Shepherd (adopted from BCSPCA). Domino is a Lhasa, terrier mix.  One cat named Panther (from the BCSPCA), and a brother and sister cat team named Hobbes and Suzi. Hoppy is a Dwarf African Clawed frog.