Unity was thrilled to welcome several student externs this summer.  Coming from local colleges, the externs are all considering careers in veterinary medicine and are using this experience to help them decide on their career path.  By shadowing Unity's vets and nurses in appointments and surgery, students are getting a behind-the-scenes look at just what it means to practice veterinary medicine.  Because our externs come with to Unity with unique backgrounds, goals, and availability, we customize the externship experience for each participant.  Providing education and mentorship is central to Unity's mission, and the staff are all very excited to share their knowledge and experience with local students.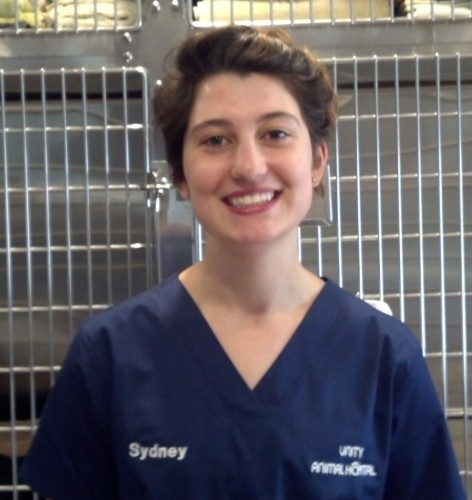 Sydney Bruck says she "feels like she in the right place" as a Unity summer extern.  Bruck is a rising sophomore at University of Delaware and a 2013 Strath Haven grad.  A Pre-Veterinary Medicine and Animal Biosciences major with minors in Wildlife Conservation and Biology, Sydney came to Unity with a plethora of unique experiences in animal care and veterinary medicine.  In the summer of 2013, she traveled to South Africa, where she participated in two projects – the first focused on animal care at a wildlife rescue, and the second involved shadowing a wildlife vet at several national parks.  There are not too many people who can say they helped dart 40 water buffalo on their first day of work or who have scars from serval scratches and mongoose bites.
That experience left Bruck confident that veterinary medicine was the right choice for her and hungry for more learning opportunities.  After a challenging year of freshman coursework that weeds out the less serious students, Sydney was ready for some more hands-on veterinary training.   She was happy to find that opportunity so close to home.
So far, her summer at Unity has helped confirm what she has learned in her college coursework while also leading her to realize how important instinct is in veterinary medicine.  Under the tutelage of Drs. Trow and Schutzman and the rest of the Unity staff, Sydney has learned how to use our on-line medical records system, intubated her own dog ("That was amazing!"), and is practicing her suturing (on tissue removed in surgeries.  Icky, but a great and safe place to practice).
We're proud of all that Sydney and our other externs have learned so far, and we're also happy to hear her say that the Unity externship is "great for students" and that she's found the practice to be "so welcoming and encouraging."
Stay tuned for information about upcoming externship opportunities at Unity.