We love to support rescues and Home at Last (HAL) Dog Rescue is one of our favorites — and a regular Unity client. We also love to play matchmaker between rescue pets and their furever home. So, here's the latest batch of lovabale and adoptable pooches from HAL. Interested? Here's how to adopt a HAL pup.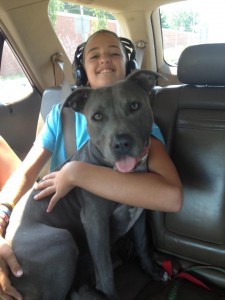 LUCY  
Hi, My name is Lucy and I am a 1 to 2-year-old blue-nosed Pit Bull mix. I am a sweet girl weighing in at 43 pounds. I was found as a stray in Philadelphia and taken to a high kill shelter, but that was the best thing that ever happened to me! I was cold and had frost bite on my ears and tail, and I had no hair in spots from sleeping or laying on concrete all the time. I was very very hungry and now the nice people at Home at Last saved me and are giving me plenty of food and warmth and love. When I first came to my foster mommy's home, I didn't really know how to behave, but I catch on quickly and have already learned how to "sit" and "lie down" and we are working on "off". I take treats from your hand nicely – just
check out my video on Petfinder
. My foster mom says I should not be placed with any cats or small dogs under 25 pounds. But I do love to play with dogs especially the larger ones! I walk well on an extension leash but not so great on a short leash and for that reason she thinks I may do best in a secure fenced yard. Or someone could maybe teach me how "not to pull" on a leash?, I am crate trained and house trained. I currently live with older kids (10 years old) who I just love, but younger children are not recommended especially while I am still learning my boundaries. My mommy thinks I am too strong and will knock them over. She also says I make her laugh because I like to toss my toys up in the air and try to catch them . When the toy bounces off my nose, I rush to scoop it up and toss it again. Did I tell you I catch on quickly? I am spayed and up to date on my shots and would love to meet you. If you are looking for a snuggle bunny and loyal companion, I am your girl. Won't you apply to adopt me today?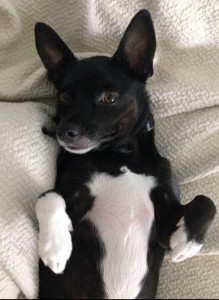 ARCHIE  
Hi I'm Archie! I'm about 2 years old and a Chihuahua/Terrier mix, I weigh about 19 lbs. I'm looking for my real forever family who will always love me! I am super sweet – I love to snuggle and give kisses. I also love taking long walks, playing with my toys, lying in the sun, and taking showers! Just
check out my video on Petfinder
. I am very smart! I know basic commands (sit, treat, and off) – I'm a very quick learner! I'm being crate trained now and doing a great job! I get along well with other dogs. I'd do best in a home without small kids. I'm up to date on all my shots and I'm neutered. Will you come meet me at a meet & greet soon?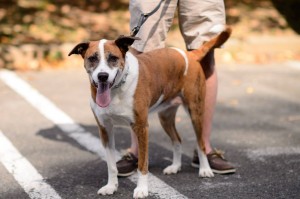 DAISY  
Who's as beautiful as a flower? Me, Daisy! I'm a boxer mix about 7 years young, and I'm ready to make you smile. I have beautiful markings and a belly just waiting to be rubbed by you! Being with humans makes me so happy, and it shows….my wagging tail always gives me away. I've lived with children 7 years old and older and I've done great sharing my space with them. I'm not high-strung–I don't need a ton of action, just somewhere to call home where my tail can wag forever. House-trained? Yep! Crate trained? Yep! Quiet? Yep! Well mannered? Yep! Toys? Yes, please!!! I love treats and I'll gently take them from you whenever you want to hand them out– feel free to be generous with those. I can't be around small animals, unfortunately I mistake them for toys and put them in my mouth. Therefore, I must have a fenced in yard or always be on a leash. So, with all that said, why am I still waiting for my happily ever after? Please apply to meet me, also
check out my video on Petfinder
. Hurry, hurry, hurry!