The Home At Last Dog Rescue is a volunteer rescue network caring for dogs removed from high-kill shelters and selected owner-surrendered dogs. One HAL rescuer recently brought her fostered litter of seven stunning puppies to Unity for spay/neuter and general health screening to prepare them for adoption. Check out these beauties! The puppies are on their way to new homes, but HAL has many more adoptable dogs.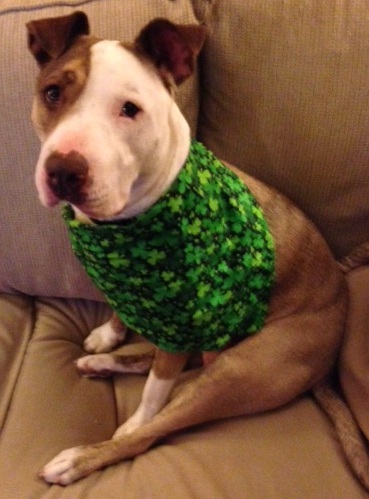 Lime is one of Home At Last's adoptable dogs.  Limey, as she is most often called, is a sweet 1-2 year old terrier mix who has made great progress in her training. She's house trained, crate trained (although she is so well-behaved she doesn't need it), and a real snuggler.  Limey is fully grown at 50 pounds and loves to play but doesn't mind time alone.  Interested in sweet Limey? Contact her foster mom at homeatlastdogrescue@yahoo.com.
If you'd like to meet more of the HAL adoptable dogs, consider attending one of their meet and greets. Not all their dogs attend all meet and greets, so if you don't meet your match or there's a particular dog you want to meet, just message HAL.   We hope Home At Last Dog Rescue can help you find a new addition to your family.