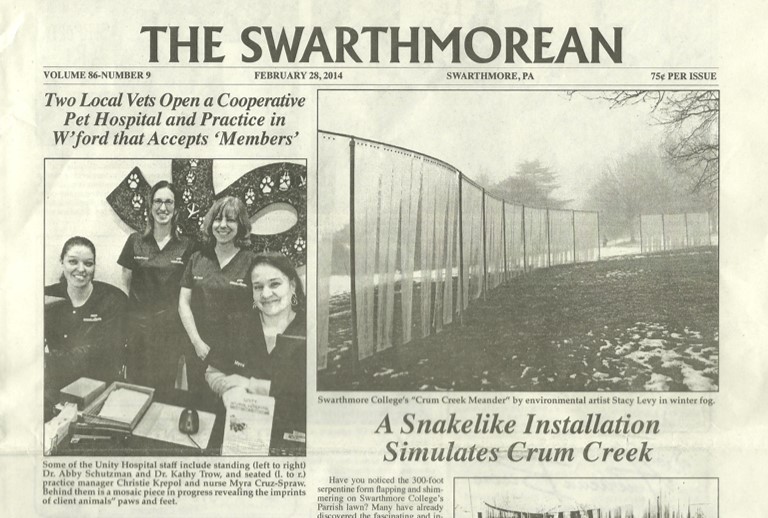 Published in the Swarthmorean, February 28, 2014
"If you are not seeing animals on a regular basis," says Kathy Trow, you may be "missing" health problems.
Trow made that remark as she was leading a tour of Unity Animal Hospital, a newly-opened facility in Wallingford that was designed by Linn Architects of Media by joining two 140-year-old houses and converting them into a state-of-the-art veterinary practice.
Unity is located at 1 North Providence Rd., adjacent to the railroad tracks. Clients and their animals park in an ample lot off Providence Rd., and walk up to the back entry via steps or a switch-back ramp for injured pets or handicapped owners.
Trow, who lives in Swarthmore with her husband and three children (Jared, Alex, and Paige Brown), is a Penn-trained veterinarian for 20 years, who, with her partner, Abby Schutzman of Springfield, also Penn-educated, have launched a unique kind of practice. Their mission is "to provide exceptional veterinary care at fair prices in an atmosphere of trust and respect," with an emphasis on prevention.
Unity Animal Hospital is immaculate, spacious and inviting. "We wanted it to be homey for patients, clients — and us," says Trow.
A surgery room with two separate surgical tables boasts a laser instrument (one of only two hospitals in the Philly area to have such a device) that seals blood vessels while cutting, resulting in less pain and bleeding.
There is space for big dogs, shiny new cages for pets of every size, a digital x-ray machine, an isolation room for contagious animals, and an upstairs lounge, where a doctor or nurse can sleep in case a pet needs overnight hospitalization. In addition, there are three examination rooms, in which every animal gets a hypoallergenic treat during and at the end of an exam or after receiving shots. Most of the rooms display handsome black and white animal photos taken by Schutzman's husband.
Also included in Unity's facility is an in-house lab equipment, three anesthesia machines and a welcoming waiting room.
The Co-op Model
But it isn't the physical layout of Unity Hospital that makes it unique, but the fact that it is run as a membership cooperative (much like a food co-op). Here's how it works: Members pay a modest one-time initiation fee and then a nominal monthly fee, which spreads out routine medical care in small, monthly installments.
The monthly fee covers all standard preventive medical care, including an annual checkup (two for pets 8 and over), core vaccinations, and fecal and heartworm testing.
Non-routine care, such as sick visits, surgery, and emergency care, is offered at a reasonable additional cost.
Nevertheless, membership is optional, although members receive services at lower prices. "For the most part," says Trow, "we offer lower prices than corporate-owned practices."
"Our appointment times are longer than most," she adds, "and we are big proponents of client education." For decisions on end of life, she says, "We give personal opinions, are very honest and talk about quality of life. We like to give people options."
Environmental Sensitivity
Although the interior of Unity Hospital is complete, a new courtyard, designed by Jules Bruck, a landscape designer and her students at the University of Delaware, will be installed in the spring to provide a green oasis, with benches,  for pet owners and their animals.
Also, the office itself is green, using LED lights and as little paper as possible — only for printed receipts. Otherwise, clients are notified by e-mail.
Kathy Trow says that she wants area residents to know "how happy Abby and I are to a part of this community."
For more information on Unity membership, hours, services and the veterinary team, visit www.unityanimalhospital.com or call (610) 285-9889. Also look for it on Facebook.