Unity will be hosting our second Open House on November 8th from 1:30 to 5 pm.  The Open House will include a pet-friendly Mosaic Event from 1:30 to 3, then a people-only party from 3-5.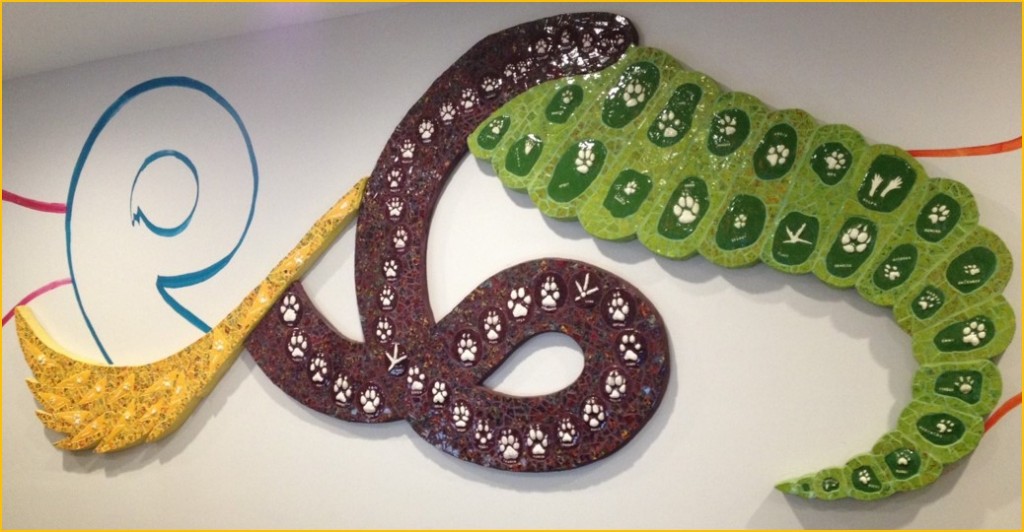 The Mosaic Event (1:30-3) will feature local mosaic artist Claire Brill.  Claire's unique Paws-N-Tails mosaic covers the main wall of our reception area and is one of the first things you see when you come to Unity.  There are currently three tails on wall, but the plan is to have a total of seven. Currently, you can see the outline of the remaining four.  Each tail is comprised of paw prints from Unity patients along with custom made tiles to complement the texture of the animal's tail.  Paw prints cost $100, and proceeds go to support our Pet Retention and Rescue Funds.  Please come to the event with your pet and have a paw print made.  Claire will take all the prints back to her studio where she attaches your pet's name (using alphabet pasta!), then overlays the final clay, which she will fire and glaze.  Once there are enough paw tiles, they will be joined together to make another tail.  You can take a paw print kit home with you, bring your pet (on a leash or in a carrier) to our event on Nov. 8, or make a paw print appointment to be part of this unique artwork that supports pets in need.
The Open House Party (people only!) runs from 3-5 and features:
Parking is behind the hospital.  Look for the Unity sign and a bundle of festive balloons.  We can't wait to see you!